Hot Country Song Chart Toppers - The History Of A Hit
There have long been many a different country chart out there. Not so long ago there was the 'Gavin' chart, and further back there were 'Music Vendor' and 'Record World' as well as many others. Ultimately though, there is just one chart that has ever really mattered… and still does. That is the Hot Country Singles Chart as published by Billboard every week.
In case you haven't heard, the Bebe Rexha and Florida Georgia Line single Meant To Be is now the most successful country single of all time. Let's let that sink in. Meant To Be has spent longer (much longer) in the top spot than Keith Whitley's When You Say Nothing At All or Lee Ann Womack's I Hope You Dance and Rexha bettered Leroy Van Dyke's 19-week run with Walk On By months ago. If that doesn't strike the fear of God into you then maybe you weren't a country fan to begin with. Billboard Magazine described Rexha as "a singer-songwriter without a clearly established solo sound or genre base," and that Bebe Rexha had never had a country chart entry previously and came from a pop/Electronic Dance Music (EDM) background might make it worse. She had written hits for Selena Gomez, Iggy Azalea, and David Guetta, and even the Best Rap/Sung Grammy-winning single The Monster by Eminem and Rihanna. In a March 2018 tweet Bebe Rexha stated, "I'm not claiming to be country. FGL and I wrote a song that people are connecting to. Music is about pushing boundaries. I'm proud of it."
But, with 37 weeks (as of August 18, 2018) at the top of the Hot Country Singles Chart it raises other questions as well. Apart from the obvious implications to the country genre and that surely anyone who liked it is sick of it by now, is it time for Billboard to reassess the way it compiles the chart?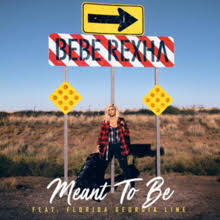 Previously it had been Florida Georgia Line's Cruise that was setting chart records with a 24-week run at the top in 2013. That was overtaken by Sam Hunt's Body Like A Back Road which bettered Cruise by ten weeks. We've always known that records on the Billboard Charts move at a glacial pace and are often astounded that a single can be on the charts for six whole months let alone at the top of it. On this side of the pond we were even sick of Everything I Do (Bryan Adams) and Love Is All Around (Wet Wet Wet) after about four months atop the UK pop charts and that seemed like an eternity at the time (recently Canadian rapper Drake equalled the 'Wets' 15 week run).
There have historically been long runs at the top of the Country Chart - Hank Snow managed 21 weeks in 1950, Eddy Arnold's I'll Hold You In My Heart (Till I Can Hold You In My Arms) and In The Jailhouse Now by Webb Pierce also spent 21 weeks in the top spot - but the sheer length and frequency of the more recent runs hints at something else.
So, does that make Meant to Be a better record than George Jones' She Thinks I Still Care with a measly six weeks in #1 position or Lynn Anderson's Rose Garden with only five? How about Coward Of The County, that only managed three weeks at the top, or the Alan Jackson and Jimmy Buffett duet Five O'Clock Somewhere with eight weeks? Of course it doesn't, unless you happen to be one of those people who equates chart position with quality, you know, "if it's number one it must be good," and following that logic, if it's number one for longer it must be that much better!
How about Jolene? Like it, or Dolly Parton, or not there can't be any debate as to its classic status. One week on top of the chart. One week! Is that it? Some other chart toppers that only spent one week there are Watermelon Wine (Tom T Hall), No Charge (Melba Montgomery), Blanket On The Ground (Billie Jo Spears), Daytime Friends (Kenny Rogers), I'm Gonna Hire A Wino (David Frizzell), and George Strait's You Look So Good In Love.
In the 70s, 80s, and 90s most chart toppers tended to have just one or two weeks at the top. There was the odd exception like Willie's Mamas Don't Let Your Babies Grow Up To Be Cowboys (four weeks) and even Achy Breaky Heart with five weeks but the turnover at the top tended to be swift. Between 1992 and 2005 Billboard was using a different means of chart methodology. It was compiled strictly on the number of detections of plays registered by each song. Previously songs had been ranked according to gross impressions which multiplied each play by the 'Arbitron-estimated' audience for the station at the time of play. Put simply, a drive-time play would be estimated to reach more people than a graveyard shift play. In 2005 Billboard returned to this methodology.
In an effort to change things up, in 2012 Billboard changed the way the Hot Country Singles were compiled and brought them inline with the Hot 100 (Pop) chart. Along with Airplay, now digital downloads and online streaming counted towards the chart, but more importantly, if a 'Pop' station happened to be playing a 'Country' song because it had 'crossed over', the plays on the pop stations added to its chart position alongside the plays on 'Country' stations.
Therefore, any country artist who happens to make a record with an inherently pop sound or production that is more likely to be accepted by pop stations will have its country chart position influenced by that. There, now you know why country has gone more pop than ever before. There is no incentive to make a record that is immediately identifiable as country because you are most likely automatically excluding your record from many (Pop) radio stations and therefore making it less likely to achieve as high a position on the country chart as it might if it went the pop route.
And with that in mind is it really any wonder that the major labels will bring in producers from the pop and rock world, after all, you wouldn't want one of those established Nashville producers with knowledge and respect for the genre making one of them pesky hillbilly tunes now. Flippant I know, but what other reason could there be?
Another point worth bearing in mind is that the record company 'decided' to service country radio with the Bebe Rexha single. Presumably because the previously charting Florida Georgia Line were listed as 'featuring' on the song. This suggests that possibly, when the record was made, it was without any aspiration of country chart action and only when some record exec had the idea to try it at country radio that it charted on country radio. Here's the thing, country radio didn't have to play it! They could have just ignored it as it wasn't relevant for their programming, but they did play it, and the rest, as they say, is history. History that is being made with each passing week.
The root of the problem, and surely it would be considered a problem by everybody except the record company, the artist, or the publisher who gain financially and can get good PR mileage out of their 'record breaking' news, is the way the charts are compiled.
It must be time for Billboard to have another rethink on their chart methodology. Not to necessarily stop something enjoying a long run at the top of the charts but just purely to make it more interesting for one thing, stop the move towards the one size fits all mono-genre and most importantly from a country fan's point of view, level out the playing field for country artists making records that sound like country records. From the Juke Box charts of the 1940s through the Best Selling C&W records of the 1950s to the Country & Western records Most Played By Jockeys later in the 50s to the Hot Country Singles of the early 60s Billboard has had to adapt with the times and demand.
At the time of writing, Meant To Be doesn't look like it's going anywhere. It is firmly rooted in that top spot and it probably wouldn't surprise anybody if it stayed there for the rest of the year.